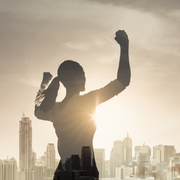 Channel Your Inner Bad Ass With These 5 Confidence Tips For Women
Show Yourself Some Love
Negative thoughts are the enemy of badass women everywhere! It can be helpful to keep track of any negative thoughts that go through your mind, especially if the same thoughts come back again and again (look out for patterns). 
Our self-esteem and general badass-ery is built on positive thoughts about ourselves. 
So in order to summon your inner badass, replacing poor thoughts about oneself with thoughts that are more badass is key!
Here are a few examples.


Negative thoughts: "I'm not good enough" and "I'm so stupid for doing that"

Replacement thoughts: "I am a badass conqueror that can do anything" and "Nobody is perfect. I'm still awesome no matter what."


Set Goals And Crush Them
Another key way to boost your confidence is to improve yourself and work hard towards realistic goals. When you start smashing goals and begin getting super skilled at something, your self-confidence improves too. 
Working hard to be everything that you want to be is vital for your self-esteem!
So, set some realistic goals that get you closer to your dreams, and go out and smash them.

Channel Your Inner Buddha 
In 2022 The Journal of Sports Medicine and Physical Fitness supported the idea that exercise and mindfulness are important factors in boosting one's self-esteem.
So to become an absolute badass, train for it!
You don't have to go to the gym to train. 
You can
Play a sport

Go for a walk with friends

Kickboxing or dance class

Meditate on your own or in a class

Do yoga
Peel Off Any "Leeches"
Are there people or things in your life that drain you of your time, energy, and sense of self-worth? 
If it is possible, then you should channel your inner badass and begin to say "no" when appropriate and begin to set boundaries in your life that keep you healthy.
It is totally ok to say no to people sometimes. Always remember, you don't need to please everyone. Not only is this impossible, but it is incredibly unhealthy and a surefire way to lose your inner badass.
Are there any boundaries you can put up in your life to take care of yourself?
Remember. You're badass. You've got this!


Express Yo'self 
The final key to becoming badass is to be truly YOU!
Sounds simple, but for most of us, this is really hard.
We often feel like we'll be judged if we show who we really are to everybody else.
But we can honestly say that when you begin to embrace who you truly are, you will not only begin to feel more confident, but your happiness will skyrocket!
Your fashion is a great first step to make a statement to the world.
Show the world that you are awesome! And nothing or no one will get in the way of you being yourself.
Do this by wearing something that expresses your badass intentions.
We sell shirts and other clothing so that badass girls like you can tell the world who you are and what you represent so that you can boost your confidence!
If this is something you can get behind, check out our wide selection below.
Peace out 
Ms Marnie